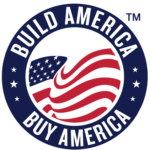 Flomatic is proud to serve as a Build America, Buy America (BABA) compliant manufacturer within the manufactured products category.
Flomatic works closely with several United States foundries to produce different grades of ferrous castings to meet BABA requirements. Please consult factory for availability and confirmation. Flomatic will provide a signed letter of compliance to the BABA provision if possible.
PLEASE NOTE: To ensure BABA documentation is appropriately captured and maintained throughout the manufacturing process, BABA (along with any other regulatory requirements) must be specified at the time of quotation and order to Flomatic.
---
Flomatic is proud to manufacture valves that comply with the American Iron and Steel (AIS) Act, and the Build America, Buy America ACT. If AIS or BABA compliant products are required, please consult factory prior to purchasing.