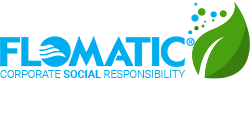 At Flomatic Valves, we recognize the value in protecting the environment to improve the standard of life for all.
We are committed to being proactive in the water and waste water industry to ensure long-term environmental solutions. Complying with legal measures, conducting business ethically and transparently, we maintain and practice sustainable development for our employees, suppliers, customers, and community as a reliable partner protecting the health, safety, and human rights for all.
As a global leader in environmental preservation, we have been a lead-free organization since the early 1990's, long before legal requirements were put into law.
Our valves are used in many domestic, municipal, and industrial applications for water and wastewater that aid in water conservation. As one of the first water and wastewater organizations in the United States to earn both ISO 9001 and ISO 14001 registrations, we adhere to continuous improvement of activities and environmental standards.
We strive to reduce, reuse, repurpose, and recycle material and energies that are used in all aspects of our manufacturing processes. We also seek to employ environmentally friendly technologies that add value to all stakeholders.