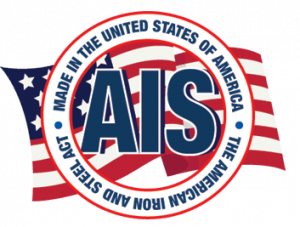 State Revolving Fund (CWSRF & DWSRF) and American Iron and Steel (AIS) compliance Valve Products.
The American Iron and Steel (AIS) provision requires Clean Water State Revolving Fund (CWSRF) and Drinking Water State Revolving Fund (DWSRF) assistance recipients to use iron and steel products that are produced in the United States.
This requirement applies to projects for the construction, alteration, maintenance, or repair of a public water system or treatment works. For more information, please visit the EPA AIS Website.
With corporate and manufacturing headquarters based in Glens Falls, New York, Flomatic Valves manufactures some valve products that comply with the American Iron & Steel Act. Flomatic works very closely with several United States foundries to produce many different materials and grades of ferrous castings, allowing Flomatic to manufacture AIS products that meet our customer's AIS requirements when possible.
Flomatic will provide a signed AIS letter of certification when possible listing the purchased product, location of the foundry, and the name of the project or jurisdiction where the product is delivered to certify compliance to the AIS provision.
PLEASE NOTE: To ensure AIS documentation is appropriately captured and maintained throughout the manufacturing process, AIS (along with any other regulatory requirements) must be specified at the time quotations and orders are submitted to Flomatic.
---
Flomatic is proud to manufacture valves that comply with the American Iron and Steel (AIS) Act, and the Build America, Buy America ACT. If AIS or BABA compliant products are required, please consult factory prior to purchasing.