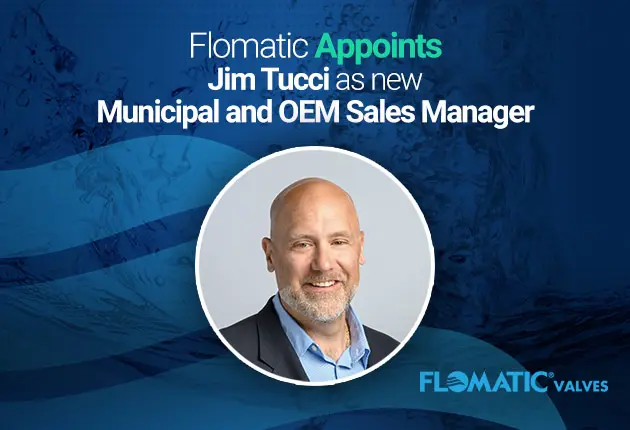 Glens Falls, NY – October 27, 2023 – Flomatic®, a leading global valve manufacturer in the water and wastewater industry, is pleased to announce the appointment of Jim Tucci as its new Municipal & OEM Sales Manager. With a distinguished engineering background and over two decades of industry experience, including the past ten years at Flomatic, Mr. Tucci is uniquely positioned to assume this crucial role.
In his new capacity, Mr. Tucci will take on the responsibility of cultivating relationships with OEM partners, municipal authorities, and engineers. Leveraging his extensive experience, he will design and execute refined strategies, foster strategic partnerships, and offer top-tier technical support. Jim Tucci will serve as the vital liaison between Flomatic and its municipal and OEM partners, ensuring the provision of the highest levels of technical expertise and customer service and support.
"We are delighted to welcome Jim to this pivotal position," affirmed President Nick Farrara of Flomatic. "His wealth of experience, profound industry knowledge, and steadfast dedication to customer satisfaction make him the ideal leader for our sales team in these critical markets. We have full confidence that he will drive Flomatic's business forward and provide exceptional service to our valued customers."
Upon assuming the role of Municipal & OEM Sales Manager, Jim Tucci expressed his sentiments, stating,
"I am deeply honored to take on this role at Flomatic. My passion for this industry and steadfast commitment to our customers' success drive me. I eagerly look forward to working with our team to develop and implement innovative strategies, build lasting relationships, and deliver the highest level of service to our esteemed customers."
About Flomatic
Flomatic® Corporation, established in 1933, stands as a premier manufacturer of valves and related products for the water and wastewater industry. Renowned for its pioneering products, steadfast quality standards, and customer-centric approach, Flomatic's products find applications in various domains, including municipal water and wastewater systems, commercial and industrial establishments, and residential well systems.