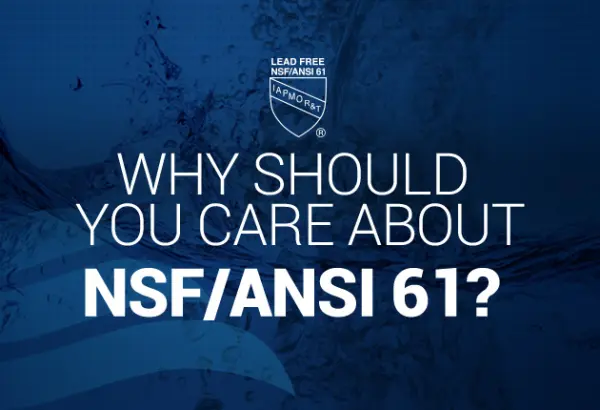 Water is life. It's as simple as that. Water is a key factor on a shortlist of necessary resources required to sustain life on this planet. As important as it is that we intake water, the quality we consume is equally as critical. Contaminated drinking water can result in adverse health effects including gastrointestinal illnesses, nervous system or reproductive issues, and even chronic diseases such as cancer among other related diseases.
However, better water filtration, technological advancements, and standardized water quality guidelines and regulations based on current, scientifically supported research are important developments that have helped provide and shape safe, potable drinking water standards and reduce water-borne diseases worldwide. For instance, standard water quality guidelines and markings such as NSF/ANSI 61 provide consumers assurance that their products have been tested by trusted certification organizations for healthy water consumption.
These markings are a tell-tale sign for consumers to know that the resources that supply their drinking water are proven safe now and down the road.
What Does NSF/ANSI 61 Mean?
NSF/ANSI 61 markings and components indicate when a product has met the criteria set to establish minimum health effect requirements for chemical contaminants and impurities which may indirectly leach into drinking water from products, components, and materials used for drinking water systems.
In 1944, the National Sanitation Foundation (NSF) was founded to standardize sanitation and food safety in the United States and since then it has become a worldwide organization. This organization currently has more than 140 active public health standards and independent testing protocols used to ensure public health protection. The North American National Standards Institute (ANSI) evaluates and monitors NSF standards development and product certification. Whether you see an NSF marking or ANSI, you can rest assured they both meet the same high standards of protection.
Compliant Doesn't Mean Certified
If a manufacturer lists its product as compliant with the NSF standard, it means they adhere to the requirements of the standard but have not had a third party evaluate, test, and prove that the product meets them.
Certification isn't simply granted to all that apply. Manufacturers must fulfill several steps and pass testing by a third party that thoroughly examines every aspect of development to earn the proper designation. To gain certification, a manufacturer must:
Submit an application and information proposal
Undergo product evaluation
Undergo in-lab product testing
Pass a manufacturing facility inspection, production confirmation, and product sampling
Test results are reviewed and accepted
A contract is signed and products are listed
Maintain annual plant inspection and retesting
Though each step is essential, the last part of the NSF certification process is one that should truly put your mind at ease.
Certification is not a one-time analysis. It's an ongoing audit that ensures we as a manufacturer continue to use the processes and materials that meet the high standards that safeguard your water consumption.
The Importance Of NSF/ANSI 61
As a consumer, seeing the certification label on goods provides end-users with the confidence that a third party has tested the product and the product has proven itself safe. The marking is a symbol of mutual dignity and respect. From the organization developing the goods to the consumers purchasing the products and beyond, it demonstrates a shared commitment for the long-term health and safety of the population.
For those involved in municipalities, NSF/ANSI 61 certification is likely required for water product components. Currently, 48 states of the United States require NSF/ANSI 61 certification. However, state agencies nationwide can order water producers to remove all non-NSF-certified products, so it's always best to start with certified NSF-certified products and avoid potential mandatory replacements or fees.
Pride In Our Products
At Flomatic, we make every decision and measure every outcome based on how well it serves our customers by building strong relationships and focusing on high-quality, safe solutions. As an ISO 9001 and 14001 certified organization offering many NSF/ANSI 61 certified products, we understand the importance of meeting our customer's needs worldwide and ensuring world-class reliability, safety, and efficiency. We are here to help you select the right valve — no matter how complex the application may be.