A Solution to Modern Trash and Roping 
Flomatic's Model 408-2 Ball Check Valve
The Problem
In wastewater stations
Check valves are a necessary part of any pumping system to prevent backflow and protect the pump & system from damaging surges and water hammer, but check valves in wastewater systems must also provide passage of grit, solids, and modern trash to prevent flow restriction and decreased system performance. Swing check valves are not as reliable today as they once were due to consistency of 'modern trash' and the incidences with roping.
Figure 1A shown here illustrates the internal seat area of a valve competitor's 6-inch size swing check valve following a typical seat failure, with various rag debris accumulating in the lower seat region.
Figure 1B shows the 'roping' consisting of modern trash removed from the valve seat.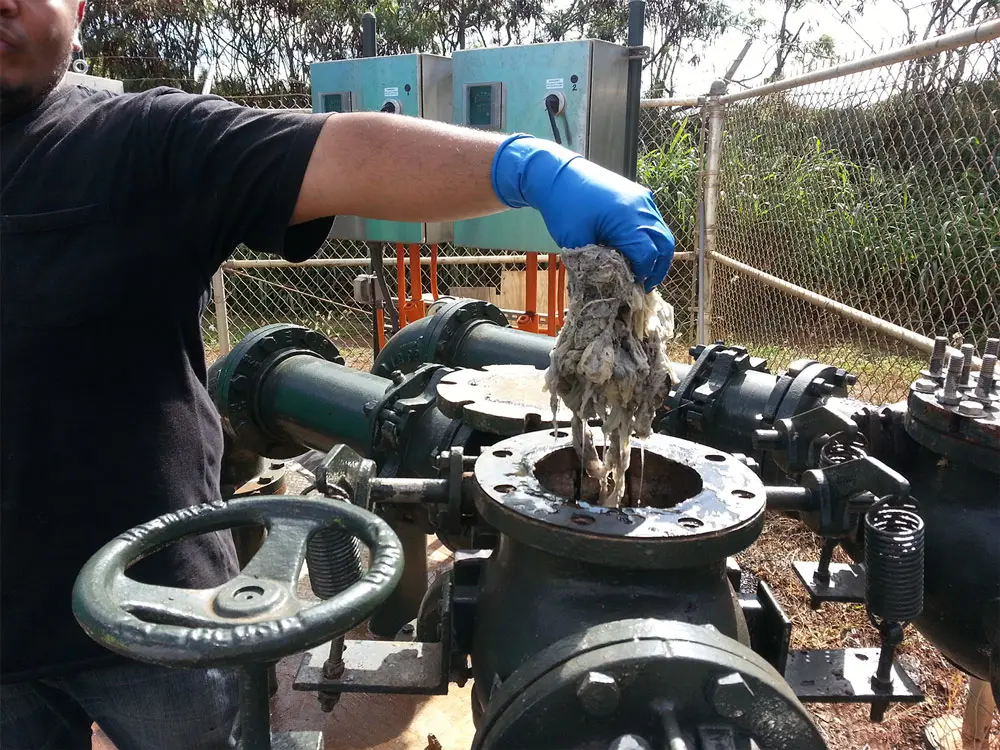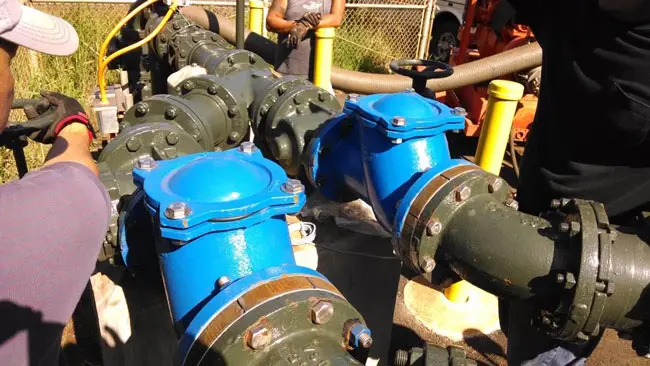 Flomatic's 6-inch ball check valve Model 4082PRX was installed at the same location as the swing check valve, as depicted in Fig. 2A to alleviate the situation. Figure 2B above, shows the 'roping' free, clean ball and seat area of the Model 4082 ball check after operation in this system under the conditions with no sealing failures.
Why Flomatic's
Ball Check Valves?
Flomatic's Model 4082 ball check valves demonstrate an exceptional level of performance along with a longer service life, reduced maintenance requirements, and enhanced flow efficiency.
These improved results can be attributed to the ball check valve's simple dependable design and operation, which mitigates the interference of modern trash on its functionality by preventing the accumulation of debris and roping on the rotating self-cleansing ball.
Corrosion Resistance
Flomatic's Model 4082 ductile iron check valves are fully coated internally and externally with NSF approved epoxy powder coating to prevent corrosion.
Multiple Ferrous Materials Available (AIS Compliant)
Optional Model 4082 316 stainless steel ball check valves are available for the most corrosive applications.
Retrofit in Accordance with AWWA C508
All 4082 models conform to AWWA standards C508 swing check valve full waterway flange to flange lay lengths allowing for easy valve upgrade in existing systems utilizing swing check valves experiencing 'roping' issues
FACTORS TO CONSIDER
An optional proximity switch was also installed on the Model 4082PRX with the ball check valve. This switch, which includes an onboard LED light, visually indicates the valve's open/closed position and can also transmit this information electronically, preventing unintended pump start-ups in the reverse direction. This feature was particularly useful for this duplex wastewater pumping station to improve system operation and minimize accidental pump start-ups if valves are closed.
Exceeding Expectations Since 1933
Providing a foundation of trust, reliability, and innovation for engineers and end users worldwide, Flomatic Valves has built a revolutionary path of manufacturing success in the water and wastewater industry for 90 years. Flomatic's valve solutions are engineered for superior performance and built with the strength and reliability to last. No application is too challenging for Flomatic Valves.